This is not a sandwich, it's a cake.
Here I have two sandwich cakes I made in January of 2011:
Turkey on Pumpernickel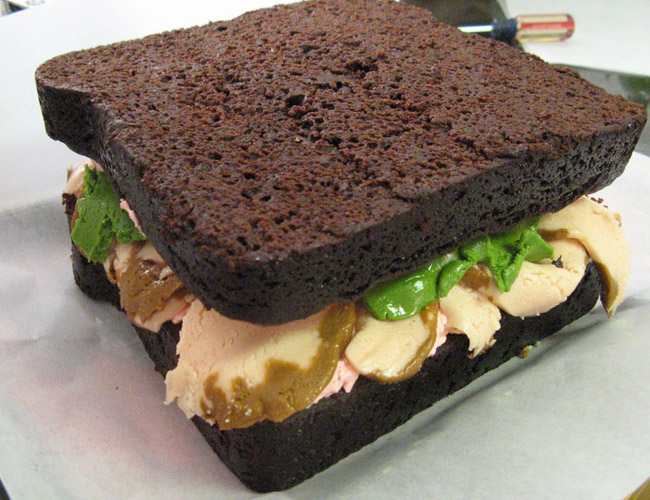 Actually, it's a chocolate cake with mint flavored buttercream fondant and buttercream. I made the best chocolate cake ever and then filled it with lettuce and sliced turkey breast done in buttercream fondant. The turkey stumped me until I realized the way to actually make fondant look like real sliced turkey is to pretend it's actually turkey. So I made an oversized turkey breast with the fondant and dyed it that beige pink color. Then I wrapped it a think layer of brownish fondant (to hint at a smoked turkey breast) then I sliced it with a serrated knife, and it ended up shredded and natural looking, just like real turkey.
Peanut Butter & Jelly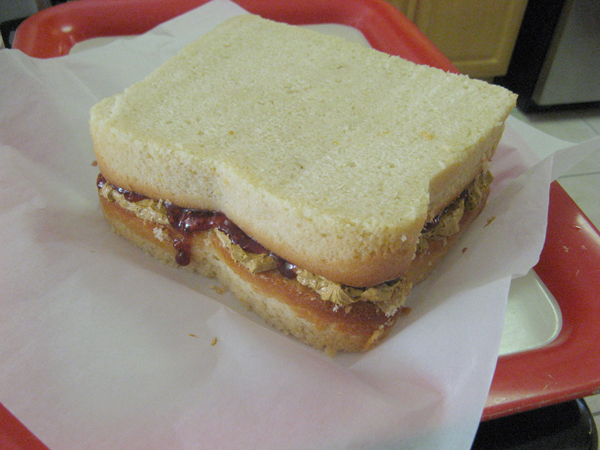 I'm not the biggest PB&J lover so this one is trompe l'Oeil but in a stealthy way. It's a pound cake with orange flavored buttercream colored to look like peanut butter and strawberry jam. Heck yes.
My favorite kitchen gadget of 2011 had to be the Fred Cakewich Mold. A little creativity and fun with color matching done with food coloring and I was able to amaze friends and family, and the boyfriend on his big day. (So glad that art degree come in handy.)
Please follow and like us: