Aha! I have completed my first major Pinterest project. Customized to my purposes and situation of course.
I wanted to make this headboard with elements of these French mattress pillows.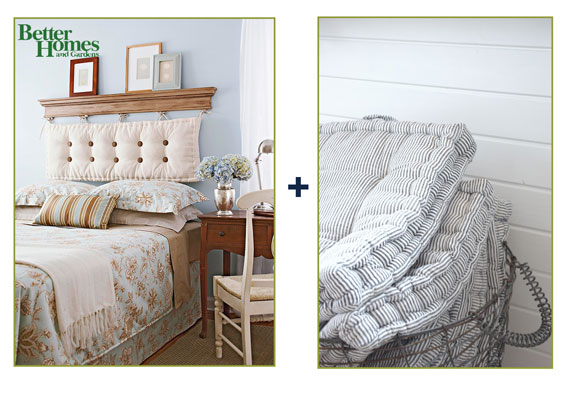 EDITS//
KEEP French mattress stitch and tufting
KEEP Hanger tabs
KEEP French Country look (blue of some kind)
Remove Picture rail (I live in earthquake land)
Change to sit lower so that my pillow don't slink down the back
Use tufting, no buttons
Make thinner so I can roll it up
HOW I DID IT:
I found very similar fabric to the pillows at Fabrix on Clement and bought foam/batting from Joann's/foam. (They were having a foam sale – lucky me!) Joann's didn't have enough of the 2″ thick foam so I used two sheets of the 1″. Eh. (If I did another I'd prefer the one piece of 2″ thick but Driving around different Joann's was not sounding appealing.)
I made a big flat box shape (approx 62″ x 2″ x 18″), and shimmied in the foam. Then my cat sat on it for 30 minutes because it was new and different, and qualified as a thing on a thing, so it must be sat on.
As it was being sat on I scoured the web to try to find a tutorial about how to do the edges of the pillow. I didn't really find anything except instructions to do a "running stitch" down the side. Maybe it was my foam but that wasn't working for me. I tried a cotton twine but it was too slippery. So I just used hemp twine for individual knots for the tufting in the body of the pillow and on the edges. Somehow the more rustic twine caught everything nicely and made the dimpled appearance I was going for It certainly gives a rustic look of a hand-knotted mattress but I'm ok with that.
Ta-dah!
Oh yeah, and I hung it from blue/white ceramic hooks I found at Cost Plus.
Please follow and like us: