Fruit Punchington Blog
I sew. I craft. I bake. I cook. (I also make web sites.) You can read this blog. I'd like that, lots.
---
A pen stained slipcover + ratty/faded curtains + old tshirt strips + a few more pounds of recycled fabric = our crocheted rag rug runner! Foot tested, cat approved.
Read More »
---
McDonalds Greens to Envy Grafitti… …photoshopped olives you are being lied to Oh no you di'int Aaron Sanchez! Bud Light 12-packs, really? This is what happens SF in August – a Highway...
Read More »
---
How cute is notebook paper that isn't actually notebook paper? Super adorable cute.  I'm far out of grade school, I still love school supplies and have to check myself... Read More »
---
When life gives you an empty bottle of Patron Tequila, make cork toadstools!
Read More »
---
I had never tried a pomelo until a few weeks ago. They're intimidating in size, for starters. Like a crazy giant grapefruit for the 9 foot tall and over... Read More »
---
Maybe I should give them another chance, but I really don't like decadent desserts made lighter. In general. I get the idea but I either want to eat something... Read More »
---
What is this? It's not jam. It's not really an apple sauce. But it's tasty.
It's been rainy out and like some kind of squirrel I've been digging through my... Read More »
---
Election returns are nothing without a giant snack of the United States made in Cheerios and marshmallows (and blue food coloring).
Read More »
---
This is not a sandwich, it's a cake. Here I have two sandwich cakes I made in January of 2011:
Turkey on Pumpernickel Actually, it's a chocolate cake with mint flavored buttercream... Read More »
---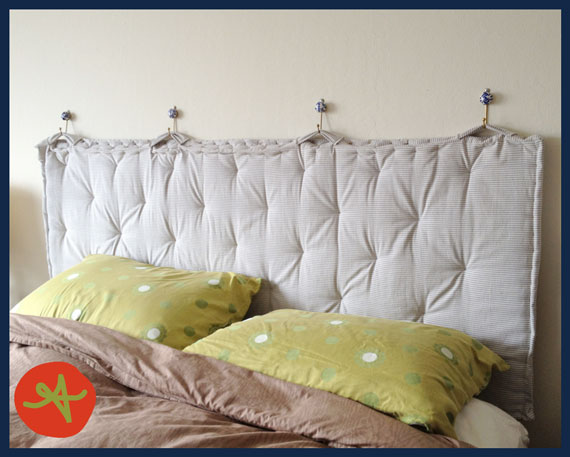 Aha! I have completed my first major Pinterest project. Customized to my purposes and situation of course.
I wanted to make this headboard with elements of these French mattress pillows.
EDITS// KEEP... Read More »